Posted June 2nd, 2014 @ 9:29 AM by Brenda Konkel
That right, step on up, a lottery to to get an application to be on the waiting list . . . it doesn't get more absurd than that! But hey, no affordable housing problem here!
The CDA is conducting its Section 8 lottery, starting today. People can submit a lottery entry (June 2nd – July 2nd) on-line at: www.cityofmadison.com/housing. There is a button/sign at the top right of our website. If you click on that button, you can find more information about the lottery and submit a lottery entry.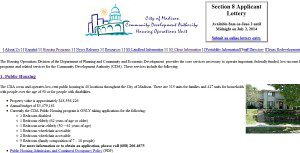 2014 Section 8 Application Lottery (June 2 – July 2, 2014)

If you need an interpreter, materials in alternate formats, or other accommodations to access this form, please contact the Housing Operations Division at 608-266-4675 or housing@cityofmadison.com.

Lottery Entries will NOT be mailed and are available at CDA Housing Operations Offices, Madison Public Libraries and social service agency locations. All accepted Lottery Entries will be held in a pool for a random lottery drawing after July 2, 2014. Selected Lottery Entrants will be mailed an application for the Housing Choice Voucher (Section 8) Program. Those who are not selected will be notified by mail.
Rules

The 2014 Application Lottery will be held Monday, June 2, 2014 through Wednesday, July 2, 2014.
Lottery Entrants must be 18 years of age or older; and at least one family member must be a U.S. Citizen or eligible Immigrant.
Only one Lottery Entry, per household, will be accepted. If you submit more than one, you may be disqualified. Multiple entries will be voided.
Only selected Lottery Entrants may apply for the Housing Choice Voucher (Section 8) Program. Program applications are not transferable.

Directions

Lottery Entries must be filled out completely for the form to be submitted.
You must provide a contact mailing address that will be valid thru July 31, 2014.

Important Notice

NEVER pay money to apply for CDA housing!

If anyone asks you for money to put in an application for the City of Madison's Community Development Authority, they are attempting to commit fraud. DO NOT give them money to receive a CDA application.
Requires an address. 🙁
Categories:
|
Media