Posted June 20th, 2014 @ 12:04 PM by Brenda Konkel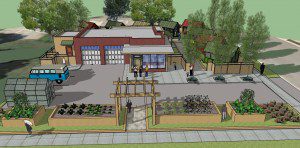 Our dream = housing for 9 – 12 currently homeless people, a workshop to build tiny houses, a store to sell our repurposed goods and gardens for beauty and food! We are waiting for final sign off on our plans from city staff, but we have work to do! We have accomplished a lot last weekend:
Photos here for our first official work day and here for our gardening day.
This weekend on Saturday and Sunday noon – 5 we plan to tackle the following tasks:
– Finish putting the temporary fence back up, including digging holes for fence posts
– Degrease the inside of the shop and store top to bottom, its black with oil and soot.
– Mow the lawn
– Disassemble and move a huge stack of pallets
– Fixing some plumbing issues
– Some gardening
– Maybe some painting (first coat to cover some intense colors)
Things we are looking to borrow or get donated include:
– Lawnmower
– Toilet
– Double slop/laundry sink
– Industrial strength mops and mop buckets
– 6 foot fence panels (temporary use for now, will be repurposed when we are done, unless you want them back)
– sun and shade perennials, but don't bring til Sunday
– sponges
– mr. clean erasers
– scrub brushes
– buckets
– paint brushes, rollers, pans
With the help of the community, so far we have only spent $68 on renovations! Every dollar we save in labor or donated items means the faster we can get the tiny houses parked there! We have to raise over $100,000 to finish phase 1 and 2 of the project. So, donations help too!
We also need volunteers to be on committees to help with fundraising and grantwriting, communications (website, facebook etc), gardening, retail sales and more!
Please, help us achieve this dream!
Questions can be sent to occupymadisoninc@gmail.com or check out our website for more information!
Categories:
|
Media