Posted May 27th, 2014 @ 7:13 AM by Jeff Simpson
On October 28th 2013, Democrat Mary Burke launched her campaign to be the next Governor of the great state of Wisconsin.
When Mary Burke was deciding to run and since she declared her intentions to run for office, her top political adviser she hired was Tanya Bjork. Tanya Bjork's political career goes all the way back to when she was convicted of a felony in the original caucus scandal. Being convicted of two misdemeanors(corrected from original post), makes one inherently qualified to be a lobbyist, so Tanya and her husband Scott Tyre co-founded a lobbyist firm called – Capitol Navigators.
In today's political fact of the day, since Mary Burke has declared her candidacy, her top political adviser's lobbying firm has given 100% of their political donations to the republican party!
Democratic elected officials were recently quoted in the news inexplicably upset that lobbyists do not even bother talking to them anymore(which seems to me something to be celebrated), now we find out their own staffers are not invested in their bosses campaigns!
Something to think about that when you are being asked to spend countless hours of your time away from your family knocking on doors explaining how the Democratic candidate will change things.
Here is a picture of Capitol Navigators, co-founder Scott Tyre: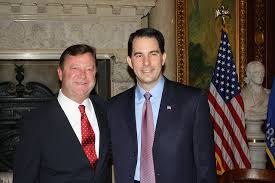 Categories:
|
Defend the Wisconsin Idea
|
Hypocrisy
|
Lobbying
|
Mary Burke
|
Media
|
politics
|
What is a progressive
|
Where is the progressive agenda?
|
Wisconsin
|
Wisconsin Governor