Posted April 29th, 2014 @ 8:04 AM by Brenda Konkel
The plan commission passed the Tiny House Village at 304 N Third St proposal UNANIMOUSLY!
Yeah, you can fight city hall!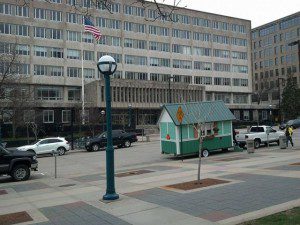 In this case, it wasn't as much of a fight as you might have believed! Yes, we've been fighting city (and county) hall for years on issues of homelessness and the injustices in the world surrounding homelessness but I think we finally hit on something they could believe in! Honestly, Larry Palm the Alder worked with us and treated us like "any other developer" (He sure loves calling me a developer!). The staff knew we were NOT professional developers but held us to high standards, probably higher than many projects due to the nature of the project and its uniqueness. We held 6 meetings with the neighborhood, made concessions, worked hard and in the end, the plan commission found a way to not only approve our project, but to see things our way on 6 of the 10 points we had asked them to fix. The remaining issues on our list are minor. After Council decides, we would then go back to Urban Design Commission for final approval and then work with staff on all the final sign offs – lots and lots of work to do . . . but another step forward!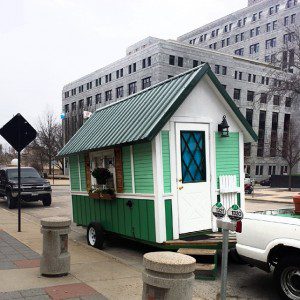 I've been giving members of Occupy Madison a little grief lately, pushing them hard to make sure we do this right and I have to say THANK YOU! THANK YOU! THANK YOU! to the best development team ever!!! (Yeah, I said thank you.)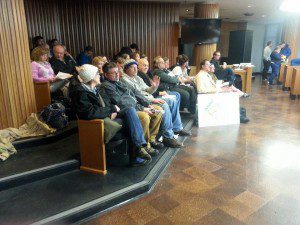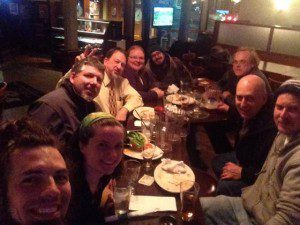 I think this was the first time I saw the opposition to the project show up in suits, not the developers! Not a suit among us, and only one tie!
The Council will vote on this next Tuesday, so its not over, but a huge hurdle has been crossed! We cleared it with room to spare!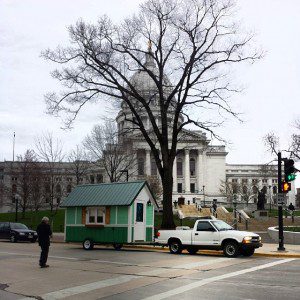 (Thanks to Choous, the OM Driver, for grabbing this pic while we had the house uptown! Watch for an orange and yellow house to hit the circuit next! Green house is going into retirement so the occupants can get some privacy and rest!)
Some justice in our tiny little corner of the world. But you know me! More work to do! See you tonight at the Health and Human Needs Committee? Read here for why you should be there!
Categories:
|
Media