Posted January 22nd, 2014 @ 7:20 AM by Mary Jo Walters
First and LAST PITCH for SHARED OPEN SPACES in highly commercial areas of downtown Madison, Wisconsin.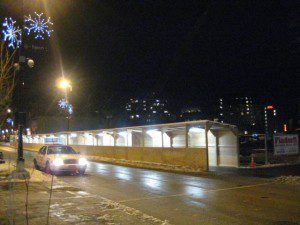 This photograph was taken at night and it does not show the full possibility of keeping an open space. It was in the twenty below weather that the furthest edges of that opening were revealed and the idea of making it a park appeared. A Central Park on top of this huge hole on lower State Street! Subtractive spaces like this one, where buildings have been removed, show how the space is shared by all of the surrounding streets, all of the surrounding housing, and businesses for students, workers, and visitors. Can the development be halted with a land purchase even at this late date?
Categories:
|
Dane
|
Madison
|
Media