Posted September 2nd, 2013 @ 11:46 PM by Jeff Simpson
I recently wrote an article about why I personally left the Catholic Church. What summed it all up to me, was a picture of Bishop Morlino, celebrating Vicki Pyzinski's radio show.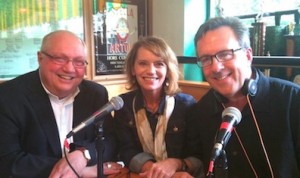 See today, Vicki and 6 of her friends, decided to use their Labor Day off(that the unions were able to secure from them) to head to Capitol and get permission from Scott Walker to sing his praises.
Well today also, "Miss Vicky? showed her true colors and her secret identity, as a member of "Knot My Wisconsin" or "Knotsie" for short. The Knotsies, got their start during the recall election as "operation Burn Notice". where a group of anonymous cowards decided to band together, gather recall signatures and burn them. Typically, they turned out to be, big wind, lot of dust and no rain. After their bluff was called during the recall, they decided to change their name to "knot my wisconsin" and do what they do best. Anonymously spew hatred and vitriol.
It has been a few days since the news of the John Doe investigation being closed, but there are still a few hangers making complete asses of themselves in OUR Capitol building. I have no idea why these idiots continue to occupy our beautiful rotunda. Perhaps they are homeless and has nowhere else to go. Maybe there are complete losers and the recall gave them a purpose to live and now that it is done, they want to continue to hang on to their pathetic pipe dream. Whatever the reason, it is about time Capitol Police take control and ticket those who continue to smell up the People's building
In an apparent show of solidarity for a group of Wisconsin whack-a-doodles, many Wisconsin liberal women are actually doing what a mere few months ago seemed unthinkable. Yep, they are actually trimming their mustaches and showing up in droves to stand with their comrades during the daily sing-a-longs at the Wisconsin state capital
I personally was a "victim" of one of their lack of creativity unoriginal rants:
So why is Jeff Simpson so insecure about with women? Does his wife know that he bullies women on the internet? Perhaps its time she finds out? Perhaps Jeff is in an abusive relationship?
it is also the same group that threatened the lives of some local activists and called it a joke!
The whole time remaining anonymous and even answering reporters questions, anonymously.
Now, we know who their leader is.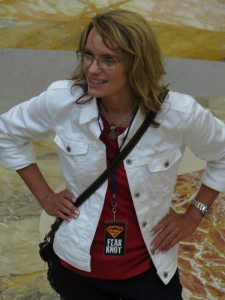 Check out the air freshener around her neck.
I wonder when JB Van Hollen or even Chief Erwin will get serious about crime and question her about the death threats? If Miss Vicky did not personally issue the death threats, I bet she knows who did.
I also wonder if her sponsors are aware of what she does in her spare time and who she associates with. I wonder if this or this are things they want associated with their products?
Remember that the next time WIBA-AM shows up at a live promo. That the racism and vitriol, hatred and death threats by the group Vicki Mckenna Associates with went unpunished and uninvestigated.
Bishop Morlino however, might want to rethink his friend group. I am pretty sure Jesus looked down upon death threats!
More on today's event and the knotsies from Capper.
Categories:
|
Defend the Wisconsin Idea
|
Education
|
Media
|
Political Advertisements
|
politics
|
Wisconsin
|
Wisconsin Governor
|
Wisconsin State Journal