Posted January 18th, 2013 @ 5:24 AM by Brenda Konkel
From the Williamson Street Art Center . . .
Erika Koivunen – a.k.a. "Butterfly Jester"
invites you to Tuesday Welding Workshops
5 Tuesdays • January 22 – February 26 • 6:00pm – 9:00pm
________________________________________
Location: 1804 S Park St – overhead door #4 – turn by "All Metals"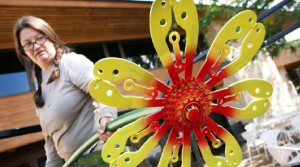 Erika is making hundreds of flowers for the Marquette Neighborhood "Gateway Sculpture Tree" which will be just past the John Nolen intersection with Willy St.
Join welding wonder Erika Koivunen and help create this iconic work of art. Skilled and unskilled help is welcome. Bring heavy work gloves and wear work clothes – or just stop by to visit.
You are also encouraged to bring your unwanted metal items for possible inclusion in the bark of the tree. "If a magnet can stick to it, I might put it to use." For info, call Erika at 239-9022.
Categories:
|
Dane
|
Madison
|
Media