Posted December 10th, 2012 @ 12:04 AM by Jeff Simpson
I recently attended the Educate to Elevate Conference in Madison, and I was very skeptical going in. While I left the conference just as skeptical, I think there were a few good things that came out of it.
It is never bad when people get together and discuss ways to improve education. I also had the priveledge of listening to Howard Fuller for the first time.
However a couple things have bothered me that came from the conference. First is the fact that Kaleem Caire(the organizer) supports this program:
Caire, who backed a controversial 2011 GOP bill that would have taken control over approving funding for charter schools from local school boards and given it to the state, says the new legislation he'll ask his board to endorse would target the achievement gap.
I promise you, taking away more local control from locally elected school boards and putting it in the hands of our current republican minority, will NEVER close the achievement gap.
Secondly, and most disturbing, was watching extreme right wing republican lobbyist and Vicki Mckenna's co host, Brian Schimming, loudly cheer for everything that was said at the Thursday afternoon (Geoffrey Canada & John Legend).
I know some might say, take allies where you can find them, but i prefer to think of it as the Fox wants in the hen house! FYI: to Kaleem Caire, parents of students in the Madison public schools and public schools in general.
Brian Schimming is NOT your friend!
Brian Schimming Lends His Wisdom at the 1st Congressional District's Republican Fall Fest from Erik of newsWISC on Vimeo.
Brian Schimming has absolutely NO interest in public education, educating minorities, the achievement gap, closing the achievement gap, opportunities for the poor, increasing test scores, high performing schools, low performing schools, outstanding teachers etc…
What Brian Schimming cares about is simply – PROFIT, and there is alot to be had in our public education classrooms.
Do not forget, Schimming is THE first person that David "Ike Turner" Prosser thanked after he was declared the winner in his recent election.
Let's also not forget that Schimming was also a big supporter of Mitt Romney(schimming on the left):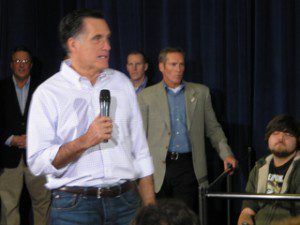 Someone who cares about closing the achievement gap would ever say you can "get as much education as you can afford":
There is nothing in Schimming's(and the people he represents) history that would ever point to them supporting the vision of a quality education for ALL kids!
There is plenty in his(and their) history to say that he wants as much money as he can get his hands on!
Tread lightly when dealing with these people and think much more than twice before we give them a cent of public education money!
Our Children's future depends on it!
Categories:
|
Education
|
elections
|
Lobbying
|
Madison
|
Media
|
Progressive Dane
|
Public Safety
|
Scott Jensen
|
state superintendent of schools
|
What is a progressive
|
Where is the progressive agenda?
|
Wisconsin
|
Wisconsin Governor
|
Wisconsin State Journal