Posted November 8th, 2012 @ 7:01 AM by Brenda Konkel
Occupy got their eviction notice and the county board's Personnel and Finance Committee took the operating funds for the Homeless Day Center out of the budget. Always more work to be done and I knew the steps forward lately were just too good to be true. So, what's next for Occupy and the County Board?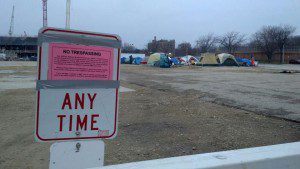 Ok, so here's where I think we are at.
The Mayor said . . .
First he told us people could stay there until everyone found housing. I, of course, laughed and said "cool". And I couldn't wait to see it happen. Knowing it pretty much can't. And tried to realistically manage expectations on the site about finding housing, because I didn't want people to get their hopes up and be let down, again.
Now, the phone call I got yesterday says that they can accommodate the "first 16″ people with "housing or shelter". However, they were going to be posting the site and we needed to leave because there the site is not zoned properly and we can't get a camp permit. There is no legal way to be there. We, of course, know that. There is no legal place to go.
The promise of housing
Alright. I have heard 1 person on the site say they got housing – but they were on site last night because they have to get there before 9pm and they couldn't get there on time so they were out in the cold anyways. One person has been number 1 on the list for 4 months and hasn't moved and they confirmed that is where she is and ????? Another person was told they can't be helped. One person was assigned another person to work with but they've never met the person. Another person was told they can get housing on Tuesday. Most have no clue what is going on or if they have a chance of getting housing or when that might happen. If the "first 16″ people are being accommodated, it be nice to know how that is going to happen and when.
Second of all, there are 25 people on site, what about the rest? And the other hundreds of people we know on the streets? And, the shitty part is that if you have income (ssi or a job) they will help you find housing, if you don't have a job or are waiting for SSDI or SSI, there is no help for you. People on site want jobs, but its depressing applying and applying and applying and never getting jobs so they give up and day labor just doesn't get you enough income to get ahead and be able to get an apartment. Others, are waiting . . . and waiting . . . and waiting . . . for SSDI and can't work even if they could get a job – which they can't. It also helps if you have mental illness or alcohol or drug problem, then they can help with "housing" if you fit into a program with lots of rules. If you are just poor . . . its a lot harder.
Anyways, one person got housing – but was sleeping outside last night because they didn't get there on time. The others, still in limbo, but are still being asked to leave.
Zoning and Camping Permit
Anyone know of any property in the city zoned conservancy where the owner can provide water and will allow porta-potties and is willing to apply for a campground permit? That's what we need. That's what we are looking for. So far, no luck. With the county campgrounds closed, there is no legal place to camp if you sleep outside. It's essentially illegal to be homeless.
There are 18 campgrounds with permits with the Health Department in Dane County – here's the list of places with the campground permits
CAMP CARLSON – ROXBURY
CREEK VIEW CAMPGROUND – ALBION
BRIGHAM PARK – MADISON (County Park – Closed for the winter)
BABCOCK PARK – MCFARLAND
OAK PARK TERRACE – MADISON (RVs only)
GANSER'S FISH LAKE RESORT – ROXBURY
SNUFFYS CAMPSITE – TOWN OF ROXBURY
TOKEN CREEK PARK – MADISON (County Park – closed for the winter)
MENDOTA COUNTY PARK – TOWN OF MIDDLETON (County Park – closed for the winter)
KEGONSA COVE – TOWN OF DUNN
Lake Farm Campground – CITY OF MADISON (County Park – closed for the winter)
ALLIANT ENERGY CENTER – TOWN OF MADISON (County owned, not a public campground)
LAKE KEGONSA STATE PARK – PLEASANT SPRINGS
MADISON KOA CAMPGROUND – DEFOREST
VIKING VILLAGE – PLEASANT SPRINGS
CEDAR HILLS CAMPGROUND – MAZOMANIE
KAMP KEGONSA – PLEASANT SPRINGS
HICKORY HILLS CAMPGROUND – ALBION
So yes, no legal place to go.
The police said . . .
The police told us we had to move because we couldn't be by the warming center opening on December 1 across the street. However, Alder Maniaci and the County Executive Office are still looking for new locations, at least that is what they both told Health and Human Needs last night. And, the resolution for the lease has only passed one county board committee and won't be voted on by the County Board until November 15th, so why do we have to leave now if it won't open til December 1 and its not a final decision? And, why did they post properties NOT by the Warming Center? (They posted Union Corners, which freaked out the car campers out there – but its my understanding they don't have to leave, they just don't want the tents to move there.)
They say they will work with us. When they handed me the notice, I said the same thing another person said – "give me a break, give us til the weekend so people can help them move. By then, Captain Gloede has said that they would give us til Sunday at three if we agreed to leave peacefully and they didn't have to give tickets, arrest people, or move and store belongings. He'll be back at 5:00 today to see what people want to do, I suspect that will be the plan – that instead of having to be out by 3:00 tomorrow, it will be Sunday at 3:00.
Where do we go from here?
To a neighborhood near you???? (BWAH-HA-HA-HA-HA-HA! You thought Halloween was over!)
Yeah, that probably strikes fear in the hearts of neighborhoods all over the city. Clearly, the county has found out, no neighborhood wants to have homeless people in it, but the truth of the matter is, they are everywhere in the city – all over the place, hundreds of people camping out in the woods or parks or and nook and cranny they can find that seems safe. Or safer than wherever they were before.
Honestly, no decisions have been made for sure yet. There was a top location chosen to move to, but no further details determined. For many the location is too far from downtown and we will need bus passes for folks. And there is great uncertainty about how long we'd be allowed to stay there. Another meeting tonight to determine how and when to move. And then there will be more details. If you are wondering how to help or what to do. I'd say show up at the site on Saturday at 11:00 and find out what is going on. And I will pass along whatever I can via facebook or twitter.
DAY CENTER FUNDING – PARISI IS A ROAD BLOCK
So, the County Executive Joe Parisi hates the homeless about as much as the Mayor did – but the mayor has softened his approach. Parisi won't even meet with homeless people or their advocates, despite repeated requests. And now, he's saying there can be no operating funds in the budget for the Day Center – so they will buy a building (but he promises that it won't be at the 800 E Washington site – even tho I don't know how he'd do that) but won't put in funds to make it work. Sadly, the word is that Porchlight can just fundraise the money to make it work. WAIT!!! Who said Porchlight was going to get the funding????? I thought it was going to be RFP'd (go out for requests for proposals so other entities could bid on it.) The whole point of this is that the Porchlight model DOESN'T WORK! And once banned, you are denied from ALL their programs – so you are denied from the shelter, the housing programs, homeless outreach services, etc. The point was to end the monopoly and have others trying to do some things differently be able to apply and open up services for those who are denied.
So, what can you do to help. Email the county executive and the county board and ask them to put in the original $74,900 in funding for the operating funds for the permanent day center. Otherwise, what good would a building be? Or maybe that is the point? Set it up for failure while looking like you care?
Here's the email addresses.
County Executive Joe Parisi – parisi@countyofdane.com
County Executive Staff – "Kostelic, Jeff" kostelic@countyofdane.com, "Wescott, Joshua" Wescott@co.dane.wi.us, "Casey Slaughter Becker" csbecker@parisifordane.com
Human Services Staff – "Green, Lynn" Green@co.dane.wi.us, "Tim Saterfield" saterfield@co.dane.wi.us
All County Board Supervisors – county_board_recipients@co.dane.wi.us
Let them know why it is so important to have these funds to make it fair for others to apply to run the day center right, instead of wasting $485,000 on a "day center" that is unusable and commonly called the "Hostility House".
Categories:
|
Dane
|
Madison
|
Media
|
Wisconsin