Posted November 16th, 2012 @ 8:14 AM by Brenda Konkel
It's all beginning to blur together, county threatens to kick us out or give us tickets, we rally troops, nothing happens. Lather. Rinse. Repeat.
Here's a few of the issues going on right now.
THREATS AND BLUFFING
So far, we have gotten the following threats that we are going to be ticketed.
1. Sunday morning a park ranger showed up and told us we could get tickets, but he wasn't authorized to give us any at the moment.
2. Monday, they wrote the letter that we had to be out by noon on Tuesday and gave us the long list of tickets we could receive.
3. Tuesday afternoon we didn't move and we were visited by Human Services staff offering to take people to shelter and provide services and while the County Attorney kept threatening everyone with tickets. (Talk about your mixed messages!)
4. Later on Tuesday were were visited by the Parks Department/Land and Water Resources staff stopped by and told us we could still get tickets.
Wednesday we didn't get any threats I can remember. We got a day off I think.
5. Thursday 2 parks rangers showed up and said that they could get tickets for being there.
6. Thursday afternoon the sheriff's office joined the party and sent a plain clothed Lt. and Sgt. in an unmarked car to come tell us we could get tickets.
So far, no warnings, no tickets, no attempts to remove us from the property.
I don't know why they keep telling us what we are doing is illegal. WE KNOW THAT! Our sign from E. Washington was really clear on that!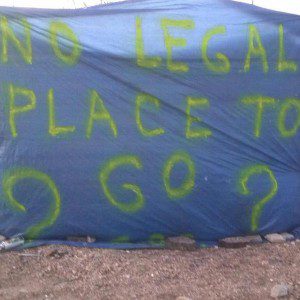 They aren't telling us anything we don't already know and telling us again won't change anything, we still have no legal place to go. How about helping us find one? Make a suggestion.
THE FIRE THAT JUST WON"T GO OUT
Quick review:
1. We call City of Madison to find out what would be safe and legal, we follow their instructions.
2. Three firefighters come out and put out the fire because it is a "nuisance"
3. They tell us they made a mistake and that "nuisance" isn't just that people are complaining, but the smoke has be causing problems – we relight the fire.
4. The City then calls back telling us what the county won't, that they are refusing our fire permit and that they can give us tickets because the property owner hasn't approved the fire.
5. Yesterday the fire department comes and puts out the fire – twice.
6. Fire Marshall Ed comes to visit to review the area to make sure we are safe.
Yes, we can get a $177 ticket for having a fire because the county won't approve it, even tho a similar fire was approved on Halloween for the neighbors.
Last night, I was there til 12:30, sitting around a fire . . . for some reason, the fire just won't go out.
If you think this is absurd, please sign this petition. It's cold at night – and they seem so concerned about someone freezing this winter that they have set up a warming shelter – so why are they denying a fire – to, you know, prevent people from freezing to death.
PROGRESS WITH HUMAN SERVICES
Yesterday, I think we finally made some progress with Human Services! They sent Andy Heidt, the County Ombudsman down to talk to folks, he spent the afternoon with them and just by talking to individuals to find out what they want and need – he was able to start helping them. Many thanks to Lynn Green for sending him down the hill! Seems like this was a really positive step in the right direction. I think he quickly realized that this will not be quick or easy, but I hope they are realizing the extent of the issues.
PLAN B
I keep hearing county officials saying that we just need to leave and go to our next place. Um . . .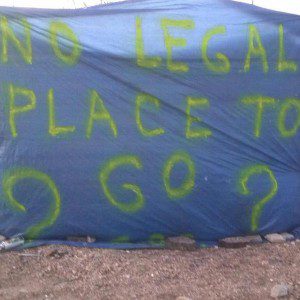 We have one very promising lead . . . but, we need a few days to actually work on it, where we are not responding to these unending threats of taking action and then not following through.
WHAT COULD THEY BE DOING?
1. Meet with us. Talk to us. Negotiate with us. Instead of just sending various staff to threaten us, why won't Joe Parisi just meet with people? Maybe we could take steps towards resolving this.
2. Issue the damn fire permit, that's just mean not to.
3. Let us have a porta-potty so everyone can stop worrying about where everyone is peeing.
4. Apply for a camping permit on some piece of property zoned conservancy in the City of Madison on a bus line . . . you know, like the hill we are sitting on.
5. Other things the camp wants are here.
Categories:
|
Dane
|
Madison
|
Media