Posted November 27th, 2012 @ 10:48 AM by Brenda Konkel
This is one of the hardest posts I ever had to write and to add insult to injury, I completed it and then lost a bunch of work. So I'm just now getting around to trying to post something about what happened last Tuesday. I still can't believe a government could just pick up and relocate a group of people to a remote location out of sight and out of mind and . . . oh, nevermind. The irony of this happening at Thanksgiving just gives me images of what we did to Native Americans early in our country's history . . . I thought we had learned from that, but I guess not.
Last night, they held another "listening session" to . . . well, I don't know what they were trying to accomplish, but I think it just further exposed what a clusterfuck this whole thing was. Sorry for the language, but I am furious. I just can't believe that my government disregarded everyone's rights and treated my friends in such a hateful and demeaning manner. Just to be clear, I understand that what we did was illegal. That's kinda the whole point, say it with me "NO LEGAL PLACE TO GO". There is no legal place to go. We knew we could get tickets. That was to be expected.
What I did not expect was a drug raid style forced removal where they essentially stole our possessions, relocated us to an isolated area, and didn't provide transportation back to where we came from. I didn't expect to be lied to, be called a liar, have my things illegally searched, get screamed at and personally attacked by alleged professionals that I considered friends, I didn't expect the county to waste all this money, refuse to communicate and treat my friends like shit. I didn't expect to have my trust betrayed when they said they would help individuals and then used confidential information that they gave and used it against them. I didn't expect my friends to be treated with disrespect and be further demeaned.
Could you imagine doing this to any other group of people? How the hell was this an acceptable solution – especially when Lake Farm Park was available and there would have been transportation and bike paths. Sorry, I'm pretty bitter and after having to look through these pictures again, I'm just so sad and frustrated that our government thought this was ok. This was not ok.
QUICK RECAP
Occupy Madison was asked to move out of the 800 E Washington location. They first asked us to move by Friday, November 9th. We worked with the city and gave us until Sunday, November 11th. One elected officials tried to help – without response. A few of us moved some tents and items and went to Lake View Hill at 1202 Northport Ave and tested the waters. We set up at 1:00 on Saturday and stayed the night without incident. The next day, we moved the rest of the camp there and were out of the E. Washington site by noon. Of course, there was a flurry of activity with people visiting us to try to figure out what was going on. County Board Supervisor Melissa Sargent and City Alderperson Anita Weier held a "listening session" on Monday evening to hear from the community. However, during the middle of the "listening session" where input appeared to be relevant, the sheriffparks's? department was out posting notices to be gone by noon the next day. After an hour or more of the meeting was over, they handed out the notice. We of course objected, given that there was no way to move that quickly. They promised to work with people, to meet with the one on one and I thought work things out. Tuesday was a very long day, at some point they came down the hill and told us they had a van for people to go to shelter at 4:30, one person took them up on that. They finally started working with people individually on Wednesday and Thursday, so we told them what it would take for us to move and why a tent was preferable to their "system", but Friday something was happening. Communication had sucked the whole time – well, it was non-existent except for memos marched down the hill. We have asked them to communicate with us better. We heard they were opening Token Creek and we were supposed to go there – which is absurd because there is no public transportation. Friday, around 3pm we got an official visit from Andy Heidt, who was the primary person working one on one with people turned negotiator. Betraying all the trust that he had built with people – after sharing their personal stories with him and telling him their hopes and dreams and needs and wants – now, he became the face of the county asking them to leave. He relayed the offer to go to Token Creek. The group asked tons of questions, he marched back up the hill, came back with some answers but not many and told us we were supposed to be out by Saturday at 6:00 and that he needed to know by 5:00 what our answer was about Token Creek. The camp meets daily at 5:00 and we prepared a statement, I went home and drafted it, brought it back to camp by noon the next day and held a press conference at 4:00 to give them our answer. Before the answer was even read, Lynn Green, the Director of Human Services comes marching down the hill to give us another notice that we had to be out by 6pm on Sunday. Sunday night, at a little after 10pm they swarmed the camp, with 5 sheriff and parks vehicles with flood lights and gave everyone there a ticket (well, most everyone), including neighbors and supporters of the group. $169 a piece – I got one too. (Since then, Parisi has been telling people he is ordering the tickets to be dropped – I don't know if he can do that, and he hasn't told us that.) Here's a recap of the messy weekend. Monday, nothing happened. No communications. Tuesday morning at 8:00 I got a call that a neighbor had seen a whole mess of sheriff's department and parks vehicles and trucks and so I rushed over and this is how my day went . . .
UNBELIEVABLE TUESDAY
This story will be told mostly in pictures, with a few words in between. Mostly, because I am still speechless.
I slept with my shoes on for a few nights because you just never knew what might happen and as I was rushing out of the house, I got another call, they had been swarmed and were being told they had to go to Token Creek. They were being asked to stand by their tent, then leave the property and not take anything and go to the church and they were told they were going to Token Creek. I kept saying, "they can't kidnap you". "They can't steal your stuff". I think I was utterly in shock. When I got there, I drove up Drewry Lane to park near the camp and this is what I saw.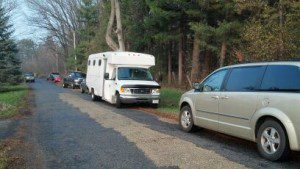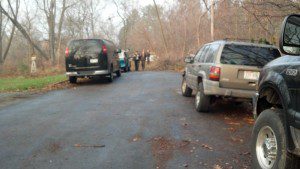 I was met by 4 officers. I told them that I had belongings on the hill and I could pack them up and take them home. They said that the park was closed, that I couldn't go there and that I had to go to the church. I told them I didn't want to go to the church, that I wanted to get my belongings. They said I couldn't have them, that I had to go to the church. I said nevermind, I don't need to go the church, they insisted and escorted me over there – following me in my car. They had the whole park surrounded with officers.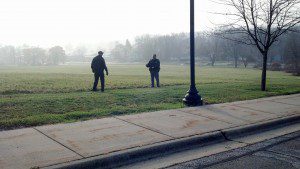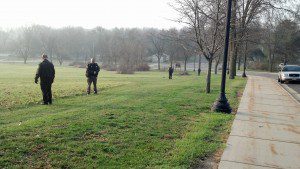 When I got to the church I told them I was there to be processed and they gave me this piece of paper.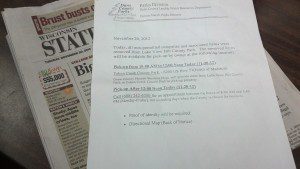 I waited at the church as people were arriving and telling us what happened. Most were not allowed to take anything with them, but eventually they must of gotten worn down and they did let some people escape with some of their belongings.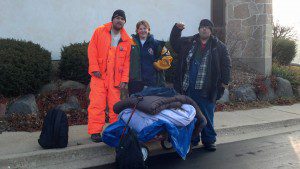 We waited there until we saw all the trucks leave with our stuff. Transportation never came, so neighbors and allies brought people out to Token Creek. When I got there, they were telling us that we couldn't come over by our stuff, that we had to stay away.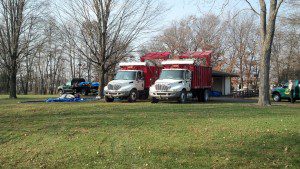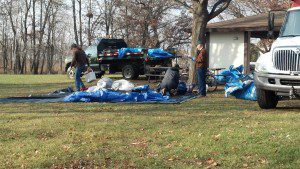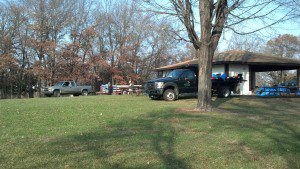 I was furious. But others took it in stride. Nothing left to do but smile, smile, smile. eh?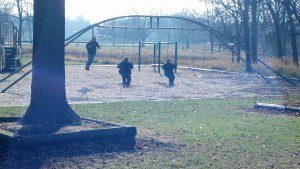 As more people arrived, they allowed us to come and see our stuff, wrapped up in the blue burritos.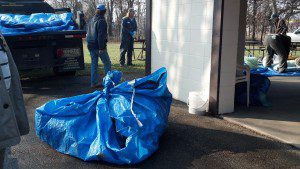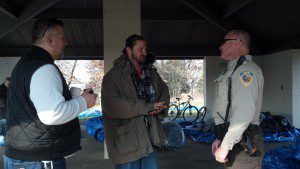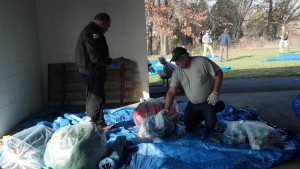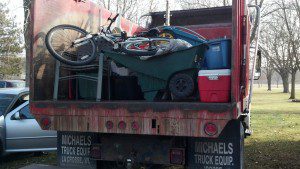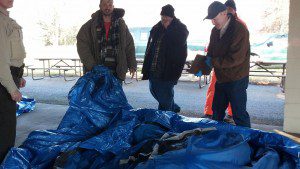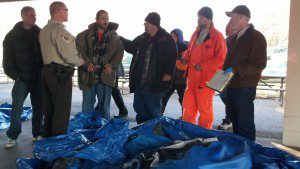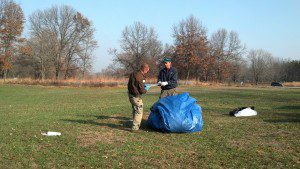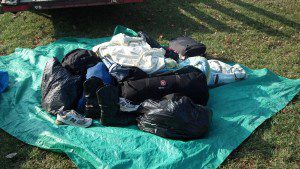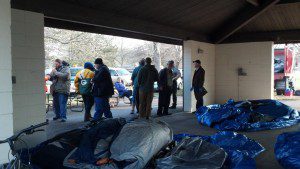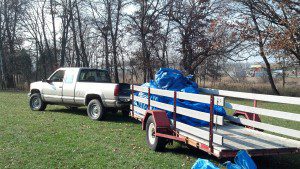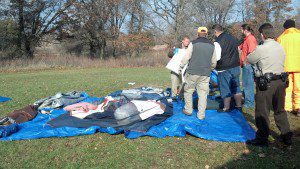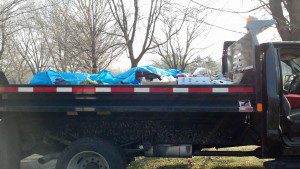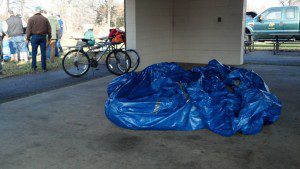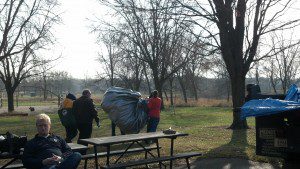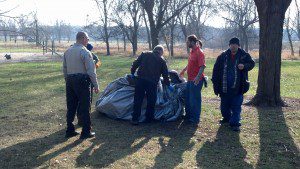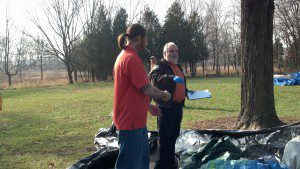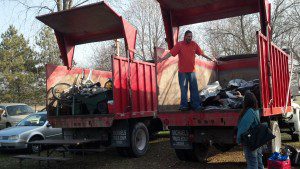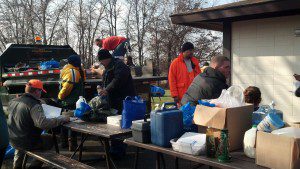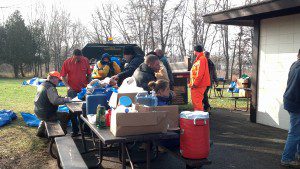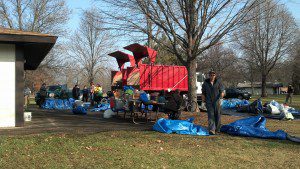 This is my stuff all laid out for inventory – luckily I didn't have anything embarrassing in there. Yes, my stuff was illegally searched, I was not under arrest and I did not give them permission. Mine was one of the first to be searched.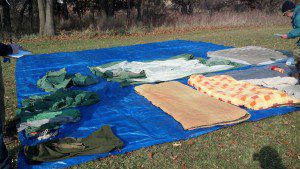 I had mail for some folks in there and they made the person it belonged to sign for it separately.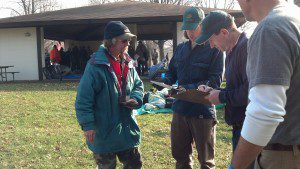 At some point, people started to object to their items being searched and chaos eventually erupted. But they also stopped searching people's items and started letting them sign for their items. Franjo was one of the main advocates for just giving back our stuff and not searching it and when people started asking where the search warrants were, they stopped.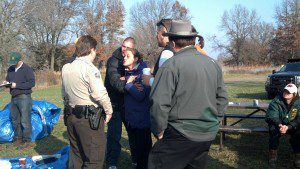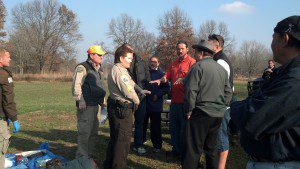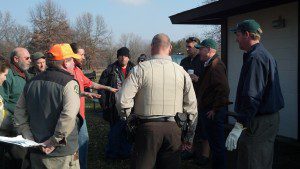 The absolute worst part was when she showed up. Marcia MacKenzie is the county attorney and she was there to answer legal questions, but then refused to answer legal questions and got into a shouting match, yet again, with people. I told the Homeless Issues committee that the single best thing the county could do is to keep her away from us. Just look at this attitude.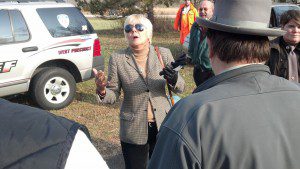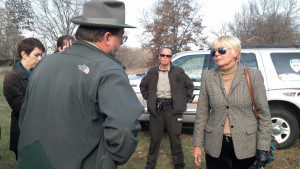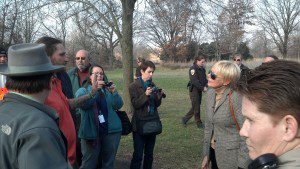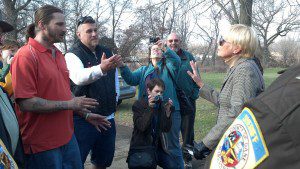 This is the guy that gets paid to document everything that was going on. What are the chances that if we request that footage it is not now mysteriously unavailable?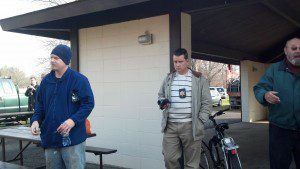 It was an incredible waste of resources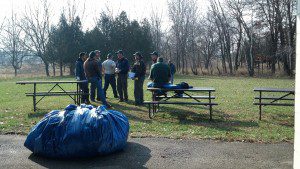 Cuz when they were done sorting through our stuff and making us sign for it, they loaded it all back on the trucks and dropped it off over here.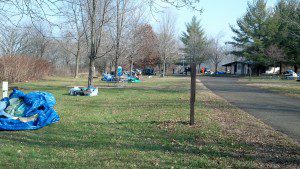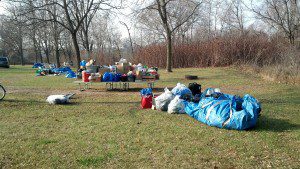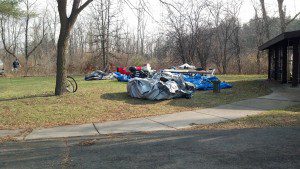 Rob got so bored waiting, he rotated the tires on his car.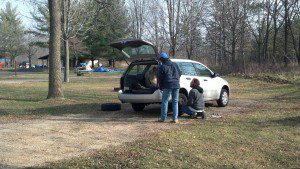 Eventually, 6 hours later, around 2pm, people had all their stuff back and had NO LEGAL PLACE TO GO, so, they did the only thing they could do at the point, sent people home that had vehicles to take them back downtown and started setting their camp back up. Which took days to do.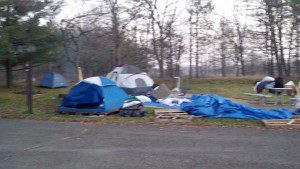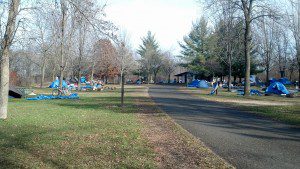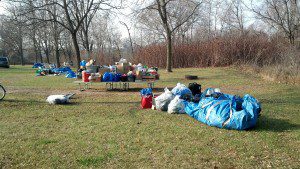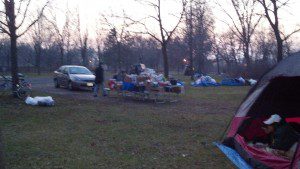 And just like on Survivor, they celebrated FIRE! Which the county was unreasonably refusing earlier.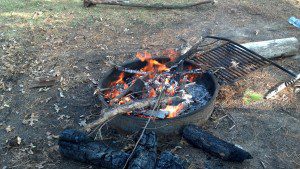 I'm dedicating this post to number 21.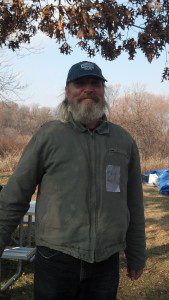 IF YOU THINK THIS WAS WRONG . . .
Please contact the elected officials and staff who allowed a group of people to be exiled to their own little internment camp.
County Executive Joe Parisi – parisi@countyofdane.com
County Executive Staff Jeff Kostelic – kostelic@countyofdane.com
Director of Human Services Lynn Green – Green@co.dane.wi.us
County Ombudsman Andy Heidt – Heidt@co.dane.wi.us
Land and Water Resources Director (above Parks) Kevin Connors- connors.kevin@co.dane.wi.us
Parks Director Darrne Marsh – marsh@countyofdane.com
Dane County Sheriff Dave Mahoney – mahoney@co.dane.wi.us
County Board Supervisors – county_board_recipients@co.dane.wi.us
UPDATE
A week later, no transportation. No water. No showers. No laundry. Porta-potty not emptied. No services – attempts to help seem to have evaporated.
THANK YOU!
Thank you to everyone from the community who has tried to help fix what government screwed up – by bringing food, water, offering rides, bringing wood and other needed items. You all rock!
Categories:
|
Dane
|
Madison
|
Media
|
Wisconsin