Posted November 19th, 2012 @ 7:20 AM by Brenda Konkel
I can't believe this all happened in 72 hours . . . this is really insane. I can't believe how out of control things have gotten and how absurd it all is. Here we go . . . you're not going to believe all this! I'll try to make it as simple as I can . . . thanks to all the video cameras and pictures from so many of our friends, I think that will help.
LATE FRIDAY NEGOTIATIONS
So, Friday afternoon they came up with the offer to send us to Token Creek Park Campground. They sent poor Andy Heidt, the County Ombudsman down the hill to deliver the message around 3pm – he was the alleged negotiator. We asked a whole bunch of questions, he went back up the hill and asked them and came back with a letter that answered some of the questions but asking us to leave by 6pm on Saturday. We didn't. Their offer to send us to Token Creek was so absurd, and they wouldn't really give us time to decide or listen to our concerns. Rob described it to me like this. They hand us a turd and tell us it's chocolate. We tell them that we can clearly see its a turd. They say "no its not, its chocolate." We tell them again that its really a turd, we can see that. Then they get mad because we won't eat it. It's still a turd, no matter what they say. And no, we will not eat their "chocolate".
OUR RESPONSE
We held a press conference at 4:00 to read the statement the Occupiers agreed to. Short story is that Token Creek won't work because its 7 miles further from where we are and there is no public transportation out there and you can't ride a bike and the transportation they are offering isn't viable for people to go to work or get dinner. They also offered a porta-potty and fire, but not water or showers, etc. Also, they won't allow some members of our group to go there and the shelters are not acceptable because . . . duh . . . they have bed bugs – which is what people were saying the whole time. Public Health found them in both shelter 1 and 2 this time. Read the statement for the full explanation. We also asked Joe Parisi to come to our meeting at 5:30 on Monday to discuss instead of sending messengers that have no authority to do anything.
NON-NEGOTIABLE!
Before the statement was even read, Lynn Green, Director of the Department of Human Services came down the hill with the latest and greatest. This time, telling us to be out by 6:00pm on Sunday and that the terms they offered the day before were non-negotiable. So, it wasn't really a negotiation of any type, they didn't even wait for our response or answer some of our questions. Again, Green was just the messenger, stuck in the middle like everyone else. Here's the statement as read on video.

A WEIRD BLOW UP
So, there was a whole lot of confusion and conversations going on, but Channel 15 went to talk to Lynn Green and Sina, one of the Porchlight Homeless Outreach workers was there and um, this happened!
Yeah, I don't really know what to say. Sina was the good outreach worker that people tried to work with. Was. People already refuse to work with Stephanie because she lied to get a homeless baby taken away from its parents. Liz has mostly been M.I.A. but uses threats a lot to get clients to do what she wants, and that doesn't work out so well, plus she's lousy at returning phone calls. Mike is the only guy left for which we have any hope . . . but he can't do this job all by himself! I don't know how we work on trying to get Sina to work with the group after all that – and it sucks, because I think she is going to be part of the staff at the warming center. This seriously bummed me out.
OVERPASS LIGHT BRIGADE

Where Can We Live? from Occupy Riverwest on Vimeo.
NO ONE MOVED
6:00pm came and went. Nothing happened.
PARKS AND SHERIFF
About 10:20 I got a call saying that 5 cars/trucks of the sheriff and parks departments were there with lights shining and they were waking people up and shaking the tents and giving everyone tickets. I got there as quick as I could, they gave 12 – 14 tickets for $169. Including many of the campers but not all (?) and 2 neighbors and myself and Chaous. I think Rebecca Kemble's photos captured the mess best. Tho there were many cameras there and I'm sure there are more photos to come.
Here's some video describing what happened.

I asked the Director of Land and Water Resources, Kevin Connors what would happen next after they gave us tickets. He said "I don't know". So, neither do we.
SILLY FIRE GAMES
After that mess happened, people decided to light the fire. There is some creepy neighbor who hides in the woods and calls the fire department and within 5 minutes of lighting the fire the firetruck with sirens is there. Followed by the police. They squirt out the fire and say "gee I hope you get that fire permit soon" and we explain we asked for one and they denied it. Actually, they just never responded. So, we play silly games while people try to cook food and stay warm.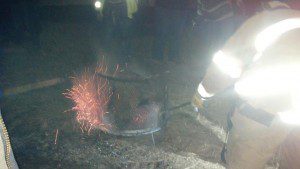 Categories:
|
Dane
|
Madison
|
Media