Posted October 17th, 2012 @ 8:08 AM by lukas
Regardless of what Kristine Burlingame (the Alma Center village clerk/treasurer) says: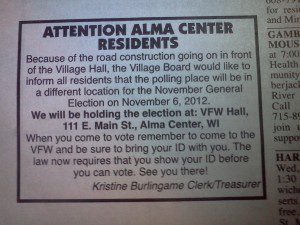 As the La Crosse Tribune points out:
The Republican-majority Wisconsin Legislature and Gov. Scott Walker approved a law in 2011 requiring certain forms of voter ID at the polls, but two state courts later put that on hold after it was challenged as unconstitutional. The state Supreme Court then declined to hear an appeal in time for the 2012 general elections.

Burlingame said she wasn't trying to mislead voters; she just misinterpreted the identification or other proof of residency requirement needed to register at the polls.

The village will run a corrected notice in two countywide publications for at least two more weeks, she said.
Well at least the correction is something.
Categories:
|
Media
|
Wisconsin