Posted October 24th, 2012 @ 9:13 AM by Jeff Simpson
Getting tired of the Wisconsin State Journal giving you a watered down version of the news and basically no coverage of the damage that the republicans have done to our state under the Fitzwalkerstan regime?
Then head to the Barrymore tonight for a double feature!
The American Legislative Exchange Council (ALEC) is "a scheme to remake America one statehouse at a time," says narrator Bill Moyers. The "United States of ALEC" is a documentary collaboration between Okapi Productions, LLC and the Schumann Media Center. This film is the extended version of the report which first aired on public broadcasting stations nationwide featuring the investigative work of the Center for Media and Democracy and cheeseheads Lisa Graves, Mark Pocan, John Nichols, Mary Bottari, Joel Rogers, Julie Underwood, and more.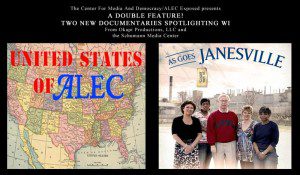 "As Goes Janesville"

The documentary by 371 Productions, "As Goes Janesville" catapults viewers to the front lines of America's debate over the future of our middle class – a debate that has become a pitched battle over unions in the normally tranquil state of Wisconsin. Producer Brad Lichtenstein will be at the Barrymore to introduce his film and answer questions.

Tickets: $10.00 Day Of Show
Advance Tickets Available On-Line and by Phone (608) 241-8633, Mon.-Fri. 12-5 p.m., with a $1.00 Convenience Charge.
The double feature supports the investigative work of the non-profit, Madison-based Center for Media and Democracy, and its award-winning "ALEC Exposed" project.
Hope to see you there!
Barrymore Theatre
2090 Atwood Ave.
Madison, WI 53704
www.barrymorelive.com
Categories:
|
Better Government
|
Community Events
|
Defend the Wisconsin Idea
|
Economic Development
|
Economics
|
Media
|
Wisconsin
|
Wisconsin State Journal