Posted October 24th, 2012 @ 8:08 AM by lukas
In a clear sign that things aren't going well for him, Tommy(!) Thompson has a desperate and dishonest advertisement against Tammy Baldwin out: Tommy Thompson, Who Profited From 9/11, Angers Responders With 'False' Tammy Baldwin Ad
Thompson, the Republican running against Rep. Tammy Baldwin (D-Wis.) for the open Senate seat in the state, alleged in his ad that Baldwin doesn't support the victims of 9/11 because she voted against a resolution in 2006 that honored them.

But the ad leaves out that she voted for the 9/11 health bills and for 9/11 victims many other times, while she opposed the one measure he cited because she thought it politicized 9/11, linking a remembrance for the victims to the Patriot Act and immigration.

FactCheck.org deemed the spot "false and vicious," but perhaps worse for Thompson, it's angering 9/11 responders.

"I don't think he's right and he never should have brought something like that up, because it's not true," said Judy Wolff, a Red Cross volunteer from Holmen, Wis., who got ill after spending three weeks at Ground Zero.
Typically, a campaign that was in good shape wouldn't resort to a misleading and incendiary advertisement if they were in the lead. After all, why risk upsetting a race that you are winning? While I could understand why some Tammy supporters might be nervous about this advertisement, because even though it is not honest, it sounds pretty bad. However, there is no way the Wisconsin GOP would just let Tammy win the election without trying to gouge her without something especially unpleasant. This is just part of the process of winning a statewide race.
This actually reminds me a lot of Elizabeth Dole's infamous "Godless" advertisement (from 2008): Amid 'godless' ad furor, polls find Dole running behind After the race was over, her campaign admitted that things were not going well and they felt like they needed to do something to somehow win. (It didn't work by the way).
But don't just take my word for it, If you go to http://fivethirtyeight.blogs.nytimes.com/ and click on the Senate button on the right hand side, and then scroll down to Wisconsin, you'd see the following: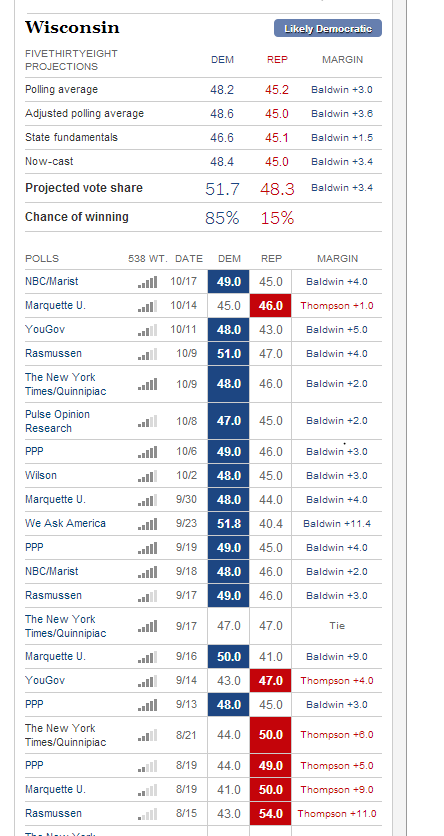 Looks pretty decent for Tammy, doesn't it? Of course, it doesn't really count until the election, so everyone keep working, but so far so good…
Categories:
|
Media
|
Tammy Baldwin
|
Wisconsin