Posted September 27th, 2012 @ 8:29 AM by Jeff Simpson
Wisconsin's District 46, has been very ably represented by Sun Prairie Democrat Gary Hebl. Since Representative Hebl has the market cornered on sane and intelligent that left an opening for crazy and not very intelligent. The tea party candidate and Sun Prairie realtor Trish Schaefer, stepped in to fill that niche!
Trish Schaefer, predictably, takes the normal tea party position on most issues as its been laid out for her by the billionaires who set the agenda:
* Scott Walker balanced our budget. He hasn't.
* Scott Walker has not raised our taxes. He has! BOY has he!
* Regulations kill jobs. They do not!
* Government can not create jobs. Yet Government DOES create jobs. Did I mention the Government actually does create jobs!
* Thinks Global Climate Change is not real, going so far as to sign a no climate tax pledge written by the extremist group "Americans for Prosperity". Global climate change is real, very real, and a serious problem!
However these things, while she is on the wrong side of the issue, is not what sets her apart. What sets her craziness apart is this: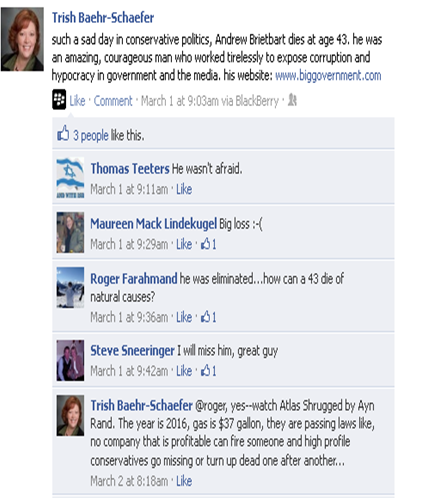 Yes Trish Schaefer is a Breitbardt conspiracy theorist who foresees a not to distant future(2016 even) where all high profile "conservatives" mysteriously go missing(just like Breitbardt, although dieing from a heart attack is hardly a mysterious cause of death, but I digress).
There is a reason that the very right wing Wisconsin realtors Association has not even endorsed this realtor! Maybe because they think she is crazy?
Extra Credit:
Just in case you need more, here is more. Trish Schaefer touting a "must see" video on her campaign's facebook page, entitled "If I Wanted America to Fail". (Edit note: WARNING – watching the stupid in that video might make your head explode!!)
Trish Schaefer for Assembly shared a link.
May 14
Got 5 minutes? You must watch this video. Reality is scarier than fiction.

If I Wanted America to Fail
This is an excellent video that shows how America is being destroyed from within. Watch and then fight for America. Produced by Free Market America (www.Free…
Categories:
|
Better Government
|
Dane
|
Defend the Wisconsin Idea
|
Humor
|
Media
|
politics
|
State Assembly
|
Wisconsin
|
Wisconsin Governor