Posted September 10th, 2012 @ 7:07 AM by lukas
Solidarity! The Chicago teachers have gone on strike today (started at Midnight).
Just because the strike is happening in Chicago don't think that what happens in the Chicago school district doesn't have an impact all over America. Why are the teachers on strike? This handy flyer (PDF) gives you the short version.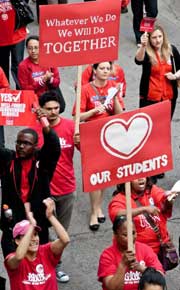 • REDUCE CLASS SIZE – The mayor has threatened to put as many as 55 children in one classroom!
• PROVIDE SOCIAL SERVICES CHILDREN NEED – The school board refuses to hire more social workers, nurses and other clinicians at a time when youth violence is skyrocketing.
• INVEST IN ALL SCHOOLS – The school board denies funds to schools in low-income neighborhoods. Our students need equal access to high-quality learning opportunities in every neighborhood school!
• SUPPORT TEACHERS AS PROFESSIONALS – The school board so far refuses to give your school's teachers, paraprofessionals, and others a fair contract.
• STOP CHARTER EXPANSIONS, turn-arounds, and school closings.
The Progressive Change Campaign Committee also has a good summary with links, if you want more detail.
You can donate to the Chicago Teacher's Union's solidarity fund.
Categories:
|
Education
|
Media
|
Solidarity