Posted August 22nd, 2012 @ 8:12 AM by Brenda Konkel
You know how I pick on the city from time to time about silly meeting faux pas . . . well, the county outdid them times 100! Check this out . . .
First of all, I was annoyed doing the county week ahead this week because I wanted to go to three meetings and they were in Middleton, on the way to Cambridge and in Waunakee. And all of them had to do with homelessness and I was kinda fuming that they were all in locations that most homeless people were not going to make it to, at least not without a lot of coordination on the part of advocates. But I got over that, mostly. I also won't be making it to all the meetings that I wanted to go to, primarily because of travel time and location and timing. But, whatever.
Yesterday, I went to the meeting on the way to Cambridge. Yes, I went to the landfill for a meeting. I knew there could be all kinds of silly jokes about meeting there, but the reality of it far exceeded my expectations.
First of all when I got there, I had no clue where to go. Or where to park. There were no signs or even clues. I looked for cars I recognized, didn't see any and it didn't seem like there were enough cars there, but I parked next to three others and got out of the car.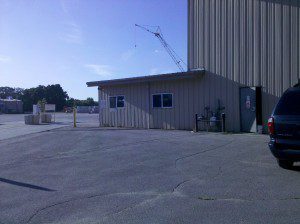 I was confused, as I was met with a closed sign and there was no obvious door.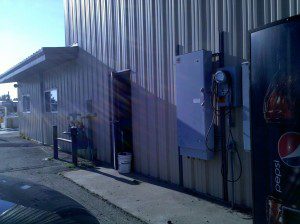 Luckily, a staff person came out that door as I was walking up and confirmed that yes, that bucket with the shovel in it is indeed propping open the door where the meeting is. I giggled and walked in to this . . .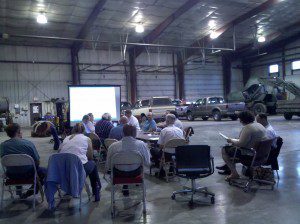 I think I grinned all the way through the meeting every time I looked at where we were. I've been to a lot of meeting and this was clearly the silliest place I ever went to a meeting. And to be talking about homelessness in this setting was just surreal. The meeting went well, the vote was unanimous to support lockers, toilets and showers for the homeless on county property as a short-term immediate solution. As we were leaving, they made sure to let us know that as we were leaving we had to deal with this . . .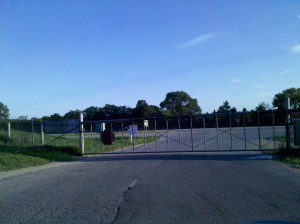 They told us the gate was not locked. So I walked up to the gate and thought it would swing open like the parks gates, but it didn't. Being blonde, I was perplexed for a moment. Then I realized that you had to slide it . . . which I did. Good thing I am physically able and a farm girl, cuz dang, that was not either a lady like thing to do or a light gate. And, I was laughing so hard that when a county board supervisor drove up after me they must have thought I was crazy . . . I let them through and then closed the gate . . . I hope that isn't something of value and that I didn't violate the ethics code!

I wonder, if it was someone who was new to county government meetings how they would have reacted to all of this. Admittedly, they were there to tour the landfill and that makes sense, but maybe a business meeting on this kind of topic wasn't quite appropriate . . . eh? I've never been to a meeting with a camouflage truck.
Categories:
|
Dane
|
Madison
|
Media