Posted August 10th, 2012 @ 8:54 AM by Brenda Konkel
Seriously! When overly exuberant kids on campus do this crap its one thing you might overlook, when people who have been around politics for years do it . . . I have a few different words for it.  Especially for someone who we are putting in the office of county clerk where people need to be extra squeaky clean.
Ah, the campaign photo as an implied endorsement. You'd think if you put a photo on your lit with highly visible well known people that they would be endorsing you, right?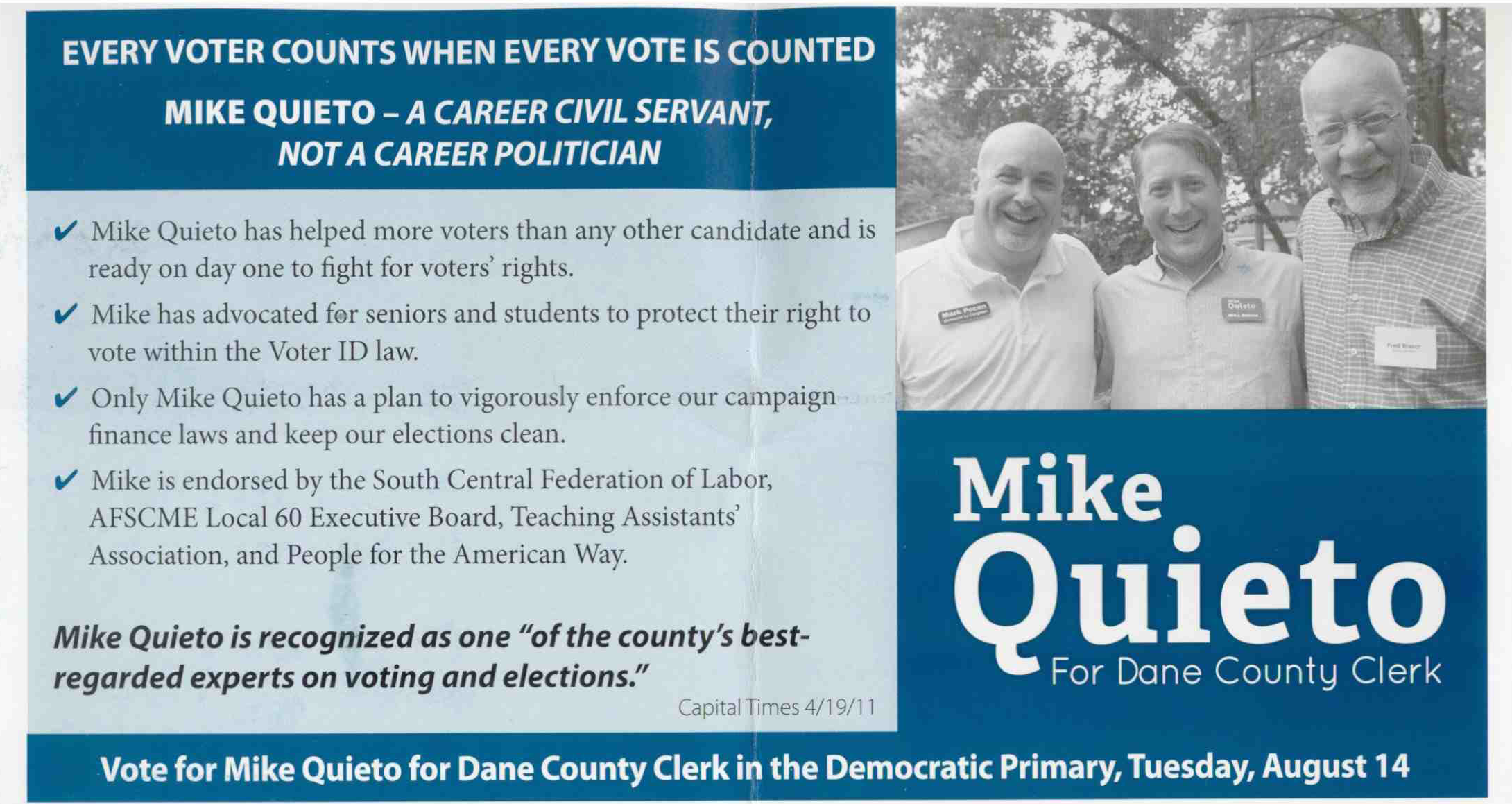 WRONG!!!
In fact, I had to go look this up, but Risser actually hosted a fundraiser for Quito's opponent Scott McDonell. From an email I had gotten . . .
State Senator Fred Risser and State Senate Majority Leader Mark Miller invite you to join them and other Dane County leaders at a pre-Concerts on the Square reception to support Scott for Dane County Clerk.

Wednesday June 27th, 2012

Fred and Nancy Risser's home (100 Wisconsin Ave.)

5:00 – 7:00 PM

To keep in touch with Scott McDonell and his campaign, go to his facebook page at www.facebook.com/McDonellForClerk.
And in looking at the endorsements, neither Pocan's or Rissers about on Mike Staude . . . er Quieto's endorsement list. You'd think if they had endorsed that they would be listed.
To those who do not eat sleep and breathe politics, they probably wouldn't even notice that Quieto wasn't endorsed by Pocan and Risser and they would just assume it from the photo. And that is the slimiest thing about this.
Politics suck. Campaigns suck even worse. And, if you stoop to this while campaigning, what will you do while in office.
So disappointed. I actually gave Quieto money, endorsed Scott and had a fundraiser at my house for him. I tried to walk the line between two people who I consider friends. But now I know who I'm voting for on election day, the person who doesn't mislead the voters at the last minute in this slimiest of ways.
Categories:
|
Dane
|
Madison
|
Media