Posted July 9th, 2012 @ 4:19 PM by Matt Logan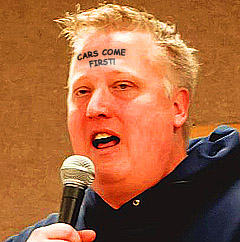 Stridently declaring that "Cars come first!", WTDY Progressive Talk host John 'Sly' Sylvester issued a litany of unfounded justifications for treating bike path users as second-class citizens, while questioning the motives of city traffic engineers and city workers in general as being part of a conspiracy to deliver poor service for automobile enthusiasts.
Sly's key argument is that cars deserve priority treatment because "those of us that drive cars are actually paying for the roads, unlike the bicyclists that are getting a great big fat freebie."
But in Wisconsin only 17% of local road costs are paid via the state tax on gasoline (which is not subject to local or state sales taxes).
Sly also appeared to argue that traffic engineers are deprioritizing things like a left turn signal on Mineral Point Road at Midvale.  Madison Traffic engineering told me that the very-well-studied Mineral Point intersection does not have room for a left-turn pocket that would make a left-turn light effective and safe.  The main obstacle to providing turn pockets is neighborhood resistance to widening Midvale road, not traffic engineering.
Sly also suggested that the value of bicycle paths is recreational only, apparently unaware that bike paths often provide critical and safe links to daily needs for those who are unable to walk. According to Sylvester, bicycle volumes of less than 3,000 trips a day do not warrant street lighting, even though most local streets in Madison with less than this volume of traffic have street lighting.
Finally, Sly suggested that bicyclists themselves were not really progressives, citing an incident when he was part of a group protesting Scott Walker that was standing in a bike path. Sly claimed that bicyclists did not stop or try to participate in the event, and that proves they are not progressives. Sly might want to take that issue up with Aaron Crandall, former Bike Fed Board Member, Ped-Bicycle-Motor Vehicle commissioner, and Transportation policy specialist for PROGRESSIVE Dane.
The full audio of the program can be found here.
Categories:
|
Public Safety
|
Traffic Bikes Roads
|
Transportation