Posted January 19th, 2011 @ 7:07 AM by lukas
I go into greater detail about my issues with Governor Scott Walker's job creation plans (here, here, and here, oh and this one too…or from others), but seeing his "open for business" signs that he is having put up all over Wisconsin, I feel more depressed because I don't think he is going to be successful in creating many good jobs. I disagree with Governor Scott Walker on a lot of issues outside of economics, but I wish there was something on the economy that he was doing that I could look at and think, "Well maybe that'll turn out alright." Spending time and garnering media attention to put up some big wooden signs is not a good way to create jobs.
My economic hope now is that the entire US economic gets going, and the Wisconsin economy improves in spite of Governor Walker.
In a picture, here are my thoughts: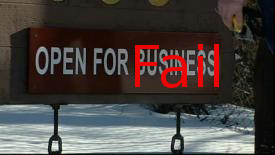 *It cost Wisconsin $1500 for these signs.
Addendum
This is hardly a scientific poll, but in Channel3000′s text poll for yesterday, the result was:
9PM Text Poll results: 11% said the 'Open for Business' signs will bring companies to Wisconsin and 89% said they won't. Thanks for voting!
That's not a lot of optimism, at least in that self-selecting poll sample.
Categories:
|
Media
|
Scott Walker
|
Wisconsin